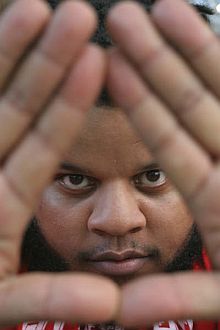 Vocalist. Born 1972 in Akron, Ohio. Trained in opera, highly influenced by spirituals, classical, hip-hop, soul, reggae, jazz, ambient, trance, house and world music, Anthony has toured the world with Harry Beafonte, Grace Bumbry's Spiritual Ensemble, Back-Portch soul singer Leela James and performed with some of opera's greatest voices at venues like Carnegie Hall, earning praise from the New York Times for his "fresh and confident" vocal skills. Mills is known and respected underground for his work with Sizzla, Krs-One, Dead prez, Maxi Priest, Snow, Turbulence and many others. For his own project GHETTOTRANCE comprised of original music, lyrics and Anthony's Artwork.

Mills seeks to inspire his audiences to transcend into the upper echelons of their mind and experience the colorful, consciously-inspired lyrics and instrumentation that surrounds them. Explains Mills, "This particular style of music is unique by nature, in that it requires the listener to experience, visualize and become involved with the distinct vibes it emits." Though the cast of musicians is rotating, Mills has an unfaltering committment to live instrumentation and concept of social consciousness to create a massive sound that is exhilarating!

Performed with Harry Belafonte on the 1998 and the 2003 European tours.

---
"Mills...brings a musicality and socially responsible dimension (to music)."
- Harry Belafonte